things I'm loving for January
I decided earlier this month to try and share with you once a month some of the things that I've been loving. I'm a recommendation girl. I read reviews online before making purchases- especially with clothes, I watch You Tube videos reviewing make up and beauty, etc. As I have gotten older (and I daresay, more responsible(?) ) I realize that I HATE spending money on something I don't like. Or that turns out to be crap. I know some people are reading that and saying, "well no kidding, genius". But I know there are others who are much more blase about it. Small purchases, meh. But if you add those all up- it makes a dent. And if I'm making a dent, I want it to be for things I like.
So, like I said, I am going to try and make this a monthly post. And if you have some things you've been loving lately, post it in the comments or send me a message and I'll share that the next month.
Jojoba Oil
by Log Home Soap
I know I mentioned in my last post how my skin has been better since I started my Whole 30- but this stuff is part of it too. I purchased a container of Jojoba oil in November, intending to use it for my daughter's excema, (We did and got her flare up taken care of, don't think she's still walking around with a raging case!) but when I bought it, the owner told me all of the other benefits as well- clearing up acne, moisturizing and helping with fine lines and wrinkles. Now, I'm a squinter. I have bad eyes and wear glasses/contact lenses, but I still squint on occasion, and I noticed this fall the creases I was getting by my eyes. Sigh. I thought I would try this out and see what happened. I LOVE it. The lines are way smoother and less noticeable. I also use it on my forehead, cause not only am I a squinter, I'm a brow furrow-er too. It's working there too. It's not greasy and soaks right in. I use it before bed every night. I've been using it for 2 months now and have hardly made a dent in it. It's also not one of those million dollar items. It's reasonable, it's natural (for me it's local!) AND it WORKS.
Vitamin E Serum
by The Body Shop
Another part of my skin care regime is this stuff. I love The Body Shop. I always have. I was a tween in the 80's and their Kiwi Fruit Lip Balm was my fave.
source
Oh that brings back some memories. But anyways- I have been buying the
Vitamin E moisturizer
and
cleanser
for a couple of years now, and I am hooked. I can't use heavy moisturizers without looking like and oil slick, and this one is perfect for me. (I just finished a container of it this morning) After Christmas I needed to replenish and there was a gift set with the cleanser, moisturizer and this serum so I picked it up. I love it. I usually get dry patches in the winter. Nope. I use about 2 drops at night, after my Jojoba oil and concentrate on my cheeks and jawline where I get dry. It soaks right in and my skin is not a mess in the morning. It's smooth and nice. Total thumbs up.
Joe Fresh jeans
Distressed vintage wash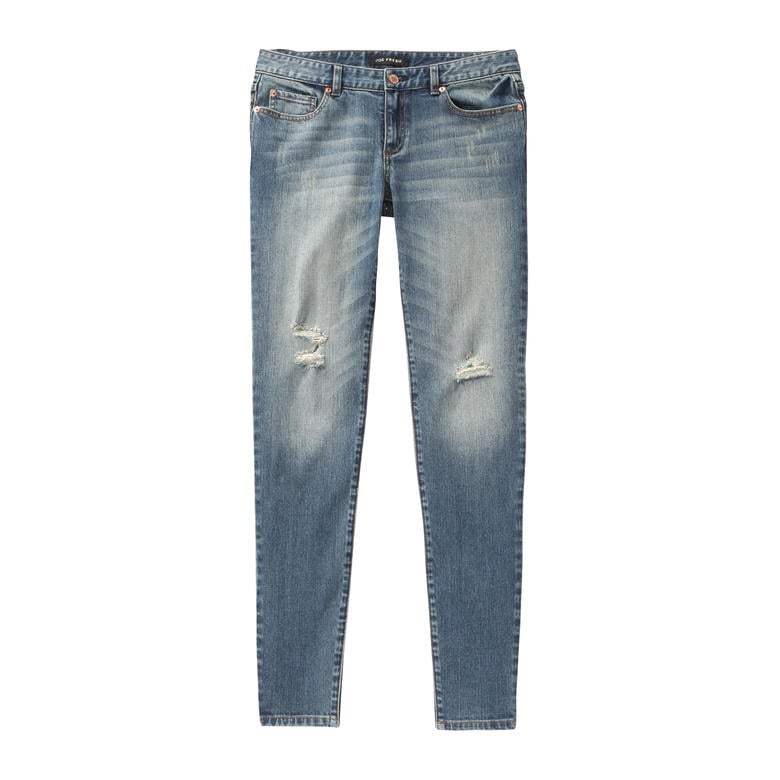 I love jeans. I am a jeans-aholic. I am embarassed to say how many pairs I actually have hanging in my closet. Let's just say it's more than 10. I also love distressed jeans. I know, you are paying money to have rips in your pants, I understand. I just can't help it. Remember I was a tween in the 80's and a teen in the 90's- hello, grunge?- so this is to be expected.
Joe Fresh
jeans. I love them. The are trendy, comfortable and cut well for me. They are usually about $50 regular price and I can handle that (I can handle it even better when they're on sale). I have these ones (they're actually on sale right now) and I love them. They do stretch out a bit when you're wearing them, but that never bothers me- I don't like feeling stuffed into my jeans before I even eat anything. I'm a comfort gal and these fit the bill. If you don't like the distressed look, they have lots that aren't and I love those too, I always get compliments when I wear them.
Church of Marvels
by Leslie Parry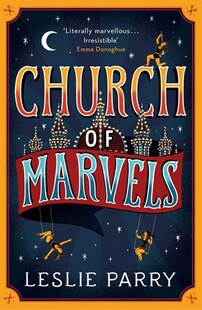 I've been having a hard time getting into a book as of late, but this one has me hooked. It's set in New York in 1899 and it's how 4 peoples lives intertwine all as a result of one night's happenings. Sideshows, gravediggers, asylums. It's got quiet an array to keep you interested. I highly recommend this one for these chilly winter afternoons by the fire.
Tazo Tea
wild sweet orange herbal tea
Speaking of chilly winter afternoons, another thing I enjoy, besides my book, is a nice hot cup of tea. I usually have black tea with milk, but since going without dairy on the W30, I picked up a box of wild sweet orange tea at the grocery store. I LOVE it. It is naturally sweet, but not sickeningly so. I find a lot of fruit teas smell better than they taste, (am I right?) but not so with this one. I don't know if it's the licorice root or what, but it's just delicious. I can drink a whole pot of it, morning noon or night. It's really nice to have in the evening, just to tame whatever sweet cravings were tempting me. It's also caffeine-free, so you can still hit the hay without any problems.
Blog- The Good Life for Less
It's taken me a long time to find my style in my wardrobe. Dressing the house has always seemed easier than dressing myself. I wasn't sure what to put together or I just put together the same old boring stuff. I've been reading Jill's blog for a few years now and it's one I always read every morning before I head out the door. She's a fashion blogger who's style I love. I get tons of ideas of things to put together or things to pick up. I never want to look like I'm trying to hard or I'm dressing to young for my age- so I keep myself in check following what Jill is recommending or what she's wearing. Follow her on
instagram
to see her daily outfit posts- it will help inspire you if you're feeling tired of the same old thing. The other great thing is that the items she posts are attainable. Some are high, some are low, some are midrange- but you can find them. And she usually gives you alternates for budgets too.
So that's what I'm loving for January. Maybe you'll find a new thing or two to try out- and if you do, I hope you like it as much as I do, and if you don't, there's always February!
keep warm
~l