cooking up some kitchen ideas
Hey guys! Lots has been happening since my last post. If you follow me on Instagram, you will have seen the crazy amount of progress that seems to have happened in the blink of an eye!
Just in case you haven't- here it is......
So now that we have walls, it's time for me to start narrowing some ideas down. We should be going in and measuring up for the kitchen in the next week or so, which is pretty exciting. Of all the renos we have done in this house, the kitchen is the only thing we didn't touch. Sure I had lots of dreams and plans, but it is pretty functional and was one of the newer parts of the house- so a new kitchen that I get to pick is all new. A little intimidating, a lot exciting.
I'm going to share my ideas today- and we will see if the final result ends up anything like it.
So this is the kitchen.
This is my little scribble I did on my phone with my finger as the pencil. Very technical.
The kitchen is an L-shape with an island in the middle and it's open to the family room. When we're working at the island we can see what our kids are doing-
more like we can watch Scooby Doo
.
For the back wall- I want only lower cabinets. Storage, I know, I know. I will figure it out. I just like the open and lighter look facing out. Like this kitchen from
The Inspired Room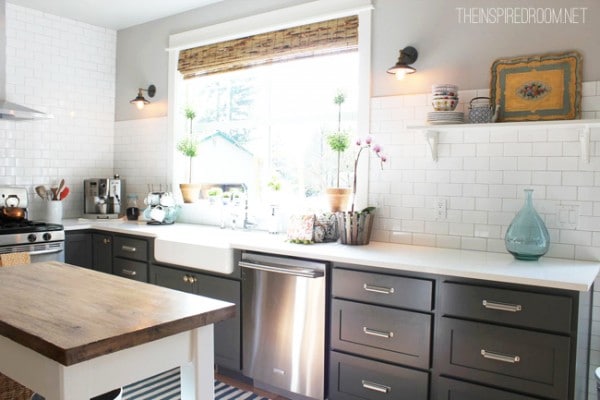 source
And white subway tile to the ceiling, but my hubster doesn't want standard 3x6 white tiles, he associates them with bathrooms (sigh).
So I'm thinking maybe something like this
source
or this
source
just to throw a monkey wrench in it, I adore this glass tile
Photo by
-
Discover traditional kitchen design ideas
and I'm kinda drooling over this
source
This isn't going to be easy.
For cupboards- that I'm sure of. White. Shaker. Simple. Don't talk me out of it, don't show me other things- that's it.
source
In front of that window- a big old apron sink. I hate washing dishes- I know, who doesn't- but I look at a wall when I do them, so this nice big window over the sink, is pretty darn dreamy to me.
The Timster loves a shiny sink- it's one of his things. So I'm leaning more towards a stainless apron sink as opposed to a white one. It's so pretty- I will enjoy watching Tim do dishes in it ;)
source
We haven't shopped for appliances yet- ours are staying here with the house. For the last 10 years, I've had a smallish wall oven and smallish gas cooktop. I'm so looking forward to having a big old gas range with a big old oven that I cook a turkey in. Mmmm, turkey.....
So far, I'm really digging the looks of this fridge and stove. I love the handles, but seriously, you should never buy an appliance because of the handles.
But I might
. And I want white- not stainless. I'm kinda predictable, aren't I?
Lights!
As you can see in my stellar drawing- I want two pendants over the island and a light over the sink. We will have recessed lighting in the space, but I like fixtures, it adds more personality- and I'm all about personality.
For over the island, I already have one of these vintage enamel barn light shades....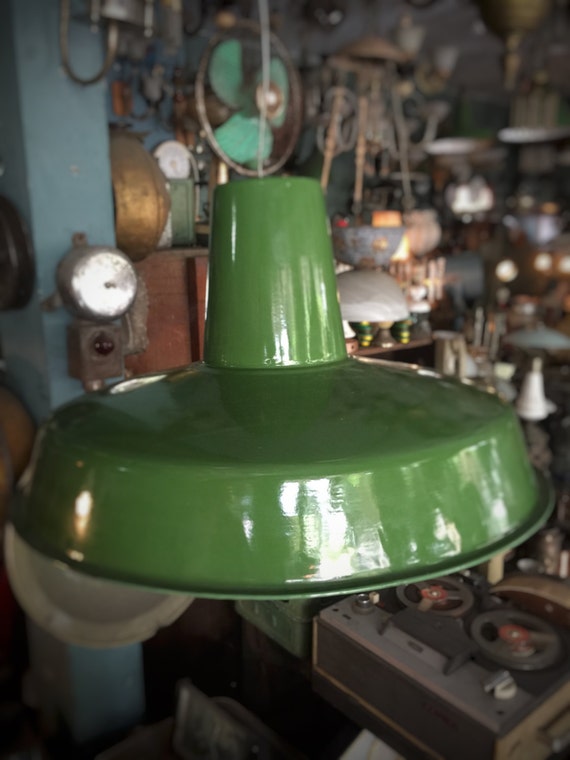 and I need to pick up another to match.
And over the sink, this sign light. The arm will push it out from the wall and it will throw light on my (beautiful) backsplash- and bathe the handsome dish washer in a pool of flattering light. I sold you on that good, didn't I? ;)
For counters- we are still not in agreement and haven't looked all that hard. BUT, I want white (shocking) counters along the perimeter - quartz, I think. I really like this one from Caesarstone
And Tim really wants stainless on the island- it's what we have on our teensy island right now, and we love the ease of it- care and cleaning and putting hot pots down without worrying about damaging the counter is a big bonus.
That island though- that is gonna be one heck of a work horse. We want a small prep sink, the microwave and a bar fridge in it. AND storage. AND we want to be able to sit at it. I don't want much, do I. Because we haven't measured everything out in the space, just off the plans, I don't know if it's going to all be feasible, but I'm still at the idea stage, so I'm going big.
So not only is this island going to have to work hard, it has to look good too.
And who doesn't look good in blue, answer me that?
Yup. Navy island. Blue is pretty much my favourite colour- if you look at any house pics of mine, you'll notice the trend. It works with white, it's not so stark a contrast as black but it still stands out. And honestly, I'm not feeling a black island for the space, and I thought I would.
I've made a mood board (or attempted to anways) so you can see the ideas together and get the feel of it all together. What style is it? A little farmhouse, a little vintage, a lot me.
I'll keep posting updates on Instagram and on my Facebook page so you can see where we're going.
Crazy. That's where.
~Laura