my favourite things- Christmas cookies!
Day three of my favourite things- thanks if you've been hanging in there this week! Today is a big favourite of mine- Christmas cookies!
I grew up with lots of variety in this area. My mom is quite a baker- she still is. Lots of days we would come home from school with trays of cookies cooling around the kitchen. Even now, in December, you might luck out and be there when a tray or two come out- the kids and I seem to have a sixth sense about these things.....
I picked up my mom's love for baking and I add my contributions to the trays of cookies at family gatherings. I have to, because my husband hates them. Seriously- he hates them. He says Christmas cookies taste like sawdust. I say whatever man.
I narrowed my list of faves to 5 today. I only baked three of them because of that right there ↑. I do not need to eat all these cookies myself at the beginning of December.
And I could.
Gingerbread Cookies
.
adapted from the
All American Cookie Book by Nancy Baggett
These are a go to cookie for me. If you remember, I made them at Halloween too. And I played around with my recipe that day too- and came up with a winner, which I'm going to share.
It makes a BIG batch, so be prepared!

6 1/2 cups AP flour
2 Tablespoons ground cinnamon
1 Tablespoon + 2 teaspoons ground ginger
1 teaspoon salt
1/2 teaspoon baking powder
1 1/2 cups packed brown sugar
1 cup unsalted butter- room temperature
3/4 cup molasses
3/4 maple syrup (real maple syrup, NOT table syrup)
Cream the butter and sugar until fluffy. Beat in molasses and maple syrup and 2 tablespoons of water until well blended. Add in dry ingredients and mix until incorporated. Work the dough with your hands, in the bowl until it is well blended, smooth and shiny. Add more water if it is too dry, add more flour if it is too soft.
Divide into thirds, flatten into discs, wrap and refrigerate for at least 4 hours. Refrigerate up to 4 days- but let stand 15 minutes at room temperature before working.
Preheat over to 350.
Roll out dough on a well floured surface, to 1/4" thickness. Cut out shapes and transfer to a parchment lined cookie sheet.
Bake 8-12 minutes, then transfer to cool on a wire rack.
Decorate once completely cooled.
I made Christmas lights this time. I was pretty pumped to find that cutter. My dad is a lover of Christmas lights- he'd give old Gris a run for his money- so I thought this was perfect.
I don't do fancy decorations. I don't have the patience or the skill for it. I like a smooth glaze that evens itself out over the cookie and is shiny and pretty. And EASY!
Throw some icing sugar in a bowl, and add milk. Just a bit at a time. It can get away on you very quickly. You want it in thick ribbons if you hold up a spoon. Add a little colouring and away you go.
A little sanding sugar makes them just a little sparkly. And you know I like sparkles.
Spritz Cookies
I used this recipe from Better Homes and Gardens. I have the checkered cookbook, my mom has the checkered cookbook, my grandma had the checkered cookbook. Get yourself the checkered cookbook.
You need a cookie press for this recipe. The only thing you are ever going to do with this thing is cookies- it's no multipurpose thing. But if you like these cookies.... it's worth it.
Kathy's Stained Glass Cookies
These cookies are a riff on this recipe from Anna Olson on Food Network
I don't use the nuts and I sub the cherries with either glacee mix or mixed peel. I like the peel version better, I made just the glacee mix this time. I'm a fruitcake gal, so that's why. Yes, I like fruitcake. Just not the imposter fruit - raisins.
White Chocolate & Clementine Shortbread Sandwiches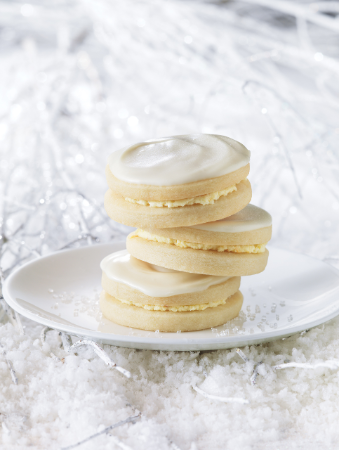 These might actually be my favourite. I didn't make them yet for two reasons. One- I used all the clementines this weekend (if you watched my stories- dork alert - you saw I used them to make Clementine Mules, oh my!)
and two- I. would. eat. them. all.
I think this is where my love for Food and Drink magazine started.
No, sorry. My favourite cookie, I don't have a recipe and I don't have a picture. That's terrible, sorry. Shows what a rookie I am.
My favourite is, what my family calls, Cigars. My grandma has made them for as long as I can remember but my mom is going to this year. I will learn so I can share (or at least photograph them!) They are a thinly rolled dough, spread with a walnut paste, then rolled back up like a cigar, baked and dusted with powdered sugar.
When we were kids, one of my little cousins called them shove cookies, when I asked her why, she said it was because I would shove the entire cookie in my mouth.
There's no powdered sugar residue then- I have my reasons!
I hope you enjoyed my favourites and maybe you'll find a new recipe or two to try this year! Tomorrow, I'm talking my favourite Christmas movies, and there's a few.